CHAS accreditation is a big deal, especially in construction. Clients often ask for it, and many contractors want it. Submitting a successful CHAS application the first time isn't impossible, but only around 20% of small and medium sized businesses gain CHAS on the first attempt. Follow this guide to prepare your CHAS application, and stand a much better chance of success when you apply.
If you are looking to find out how to get CHAS health and safety accreditation for your construction business, and are not sure where to start, or what, exactly, the application involves, you are not alone.
Since the CHAS application is now all online, it can be harder to get an idea of what information you will need to provide during the registration process. You are torn between wanting to get that certificate and wondering what exactly you are committing yourself to. Will you be able to pass the assessment, or will it all be too much?
With CHAS being one of the most popular SSIP (more on that later) schemes in the construction industry, gaining CHAS can help you get on more tender lists, sail through PQQs (pre-qualification questionnaires) and ultimately, win more work.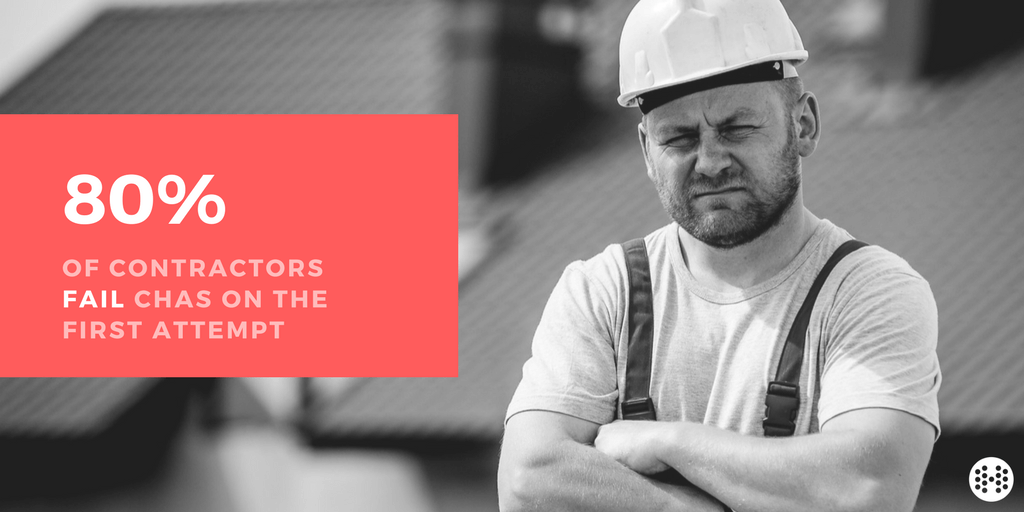 The great news is, CHAS is achievable, even for small businesses. With the right preparation, you can be approved within just 10 days (according to the CHAS timeframes). But, you need to make sure your health and safety management is in order, after all, that's what the CHAS assessor will be looking for.
Read our free guide below for CHAS registration success.
What is CHAS?
CHAS stands for the Contractors Health and Safety Assessment Scheme. CHAS is a health and safety accreditation scheme for the construction industry and often acts as a type of pre-qualification during the tender process. Some buyers will require CHAS to be gained before they will allow you to tender, and this is being seen more often in public procurements such as for councils, schools and other public sector bodies.
The purpose of CHAS is to help both buyers (your potential clients) and suppliers (usually contractors) in the assessment of health and safety competence. CHAS can help buyers by reducing the lengthy process of assessing contractors health and safety standards individually. CHAS can also help contractors like you by reducing the time consuming process of completing and submitting full details of health and safety processes on each project they compete for.
Should I get CHAS accredited?
CHAS accreditation is not a legal requirement, but it can help to verify your health and safety management system and show clients that you take the safety of your workforce seriously.
CHAS isn't the only option when it comes to health and safety accreditation, there are other SSIP schemes out there. Whichever route you take, this guide should help you get prepared.
Gaining CHAS accreditation is a priority for many construction organisations, as it demonstrates health and safety best practice and is often required to become approved or invited to tender for clients, particularly in the public sector. It can seem overwhelming to contractors undertaking the assessment for the first time, however, with the help of our step by step process you should be able to get your health and safety management system in place ready for the assessment.
Preparing records
The first step you should take before even considering applying for CHAS accreditation, is preparing records of your health and safety management. The better your records, the greater the chance of success first time.
According, to CHAS, most small businesses fail the assessment the first time they apply...
Since its introduction the CHAS scheme has established that four out of five small and medium sized businesses applying to the scheme have failed an initial assessment designed to ensure the applicant demonstrates compliance with basic health and safety...
That's a vast majority (80%) of small and medium businesses sending off the CHAS assessment and failing. If you prepare your application right the first time, this doesn't have to be you. If it is you, and you have failed your first assessment, don't worry, you can fill any gaps, and apply again.
Let's evaluate your existing health and safety records and fill any gaps.
Existing records
Look at your existing health and safety records, such as training records, risk assessments, method statements, forms and inductions records.
You're going to need to supply evidence that you have adequate health and safety records in place for your business if you are going to gain CHAS accreditation. After all, the assessor doesn't visit you in person, they make their assessment based on the evidence you submit to them.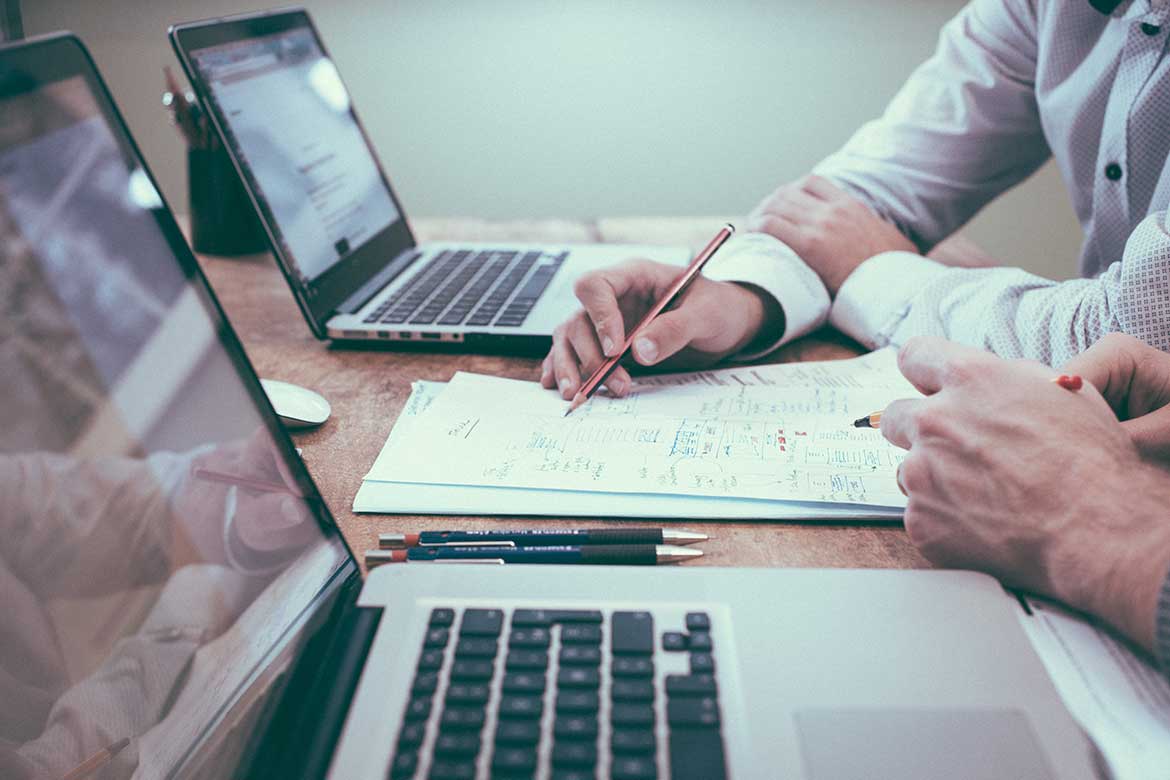 The documents you supply for your CHAS application should be in date and signed, to show that they are in use within your business. Are your current documents in date, or were they last reviewed in 2010? CHAS assessors will almost always send back documents if they are more than 12 months old.
Make sure you don't just supply blank templates, you need to show evidence that your workforce have read and acknowledged the procedures and controls in place.
Having site inductions, risk assessments, permits and other documents signed on site by your staff and subcontractors is best practice for your business, as it provides evidence that this information has been delivered to your team.
Be honest when looking at your current health and safety records. If you don't have much written down at this point, don't worry. This guide will take you through the sort of records you will need, and how to create them.
Filling gaps
Before you apply for CHAS, you need to fill any gaps in your existing health and safety records.
OK, so now you have looked at your existing records, are there any activities or tasks you carry out that don't have records in place? Do you create a paper trail for each new project you start?
Check you have all the documents in place to cover your business activities. To pass the CHAS assessment you will need to supply evidence of these documents in action within your business.
You should look at your key business activities and consider any other risk assessments or method statements that need to be in place. For example, if you carry out demolition work, you will need a risk assessment for that.
If you have any gaps to fill in your health and safety records, we have hundreds of health and safety templates you can use including:
This is a good opportunity to review your record keeping, not only for the CHAS assessment but to make sure you have the health and safety records in place your business needs. For example, if you don't have induction records from every project, you should put in place procedures to make sure inductions are carried out and recorded on every project going forward, to comply with legal requirements and make sure there are no holes in your paperwork.
Organise your evidence
Since this guide was first developed, CHAS have launched an electronic application system (Eforms) so you can upload your evidence directly to the CHAS website. It is still good practice to organise your application and evidence into a folder structure similar to the one below so that you can easily find, access and upload your evidence when you are going through the online CHAS application process.
An organised submission is the key to making sure you provide all the required information your CHAS application needs.
We recommend organising your records into a folder structure so it is clear and easy to reference when you come to needing to upload your documents to the CHAS system. The folder structure you use could look something like this:
Health and safety policy
Construction phase plan
Risk assessments
Method statements
COSHH assessments
Training records
Work equipment
Subcontractor
Asbestos
Monitoring
Involvement
Accident records
These are the folders you will use to store your evidence and submit your application to CHAS.
These folders cover the mandatory areas of the application and the evidence that needs to be submitted. You can add additional folders to cover any other areas that may be applicable to your specific business, for example, if you do high risk work such as hot works, that require permits, you might create a folder for permit records called 'Permits'.
Once you have your folders ready, you can start filling them with your submission evidence.
Gathering evidence.
Following your review of any gaps that needed filling, you can now put procedures in place to create the health and safety records you need for your business.
The important thing to remember about CHAS, is that it is an assessment of your health and safety management. Not just an assessment of your documents. As we previously mentioned, the records you provide need to show that they are in use within your business, just sending off a blank form is not evidence that the document is being used.
You should now have prepared some folders ready to store your evidence. For the purposes of CHAS, your evidence is the records and documentation you prepared that has now been completed and filled in on site, and used within your business.
Now let's look at the records we need as evidence.
Policy
CHAS will usually want to see a copy of your health and safety policy. It should be in date (reviewed within the last year) and signed.
For small businesses, while legally if you employ less than 5 people you don't have to have a written health and safety policy, CHAS expects more than the legal minimum, so you will at least need to provide a copy of a health and safety policy statement for your business.
You should also make sure you include your organisation details for health and safety, for example, who is responsible for what at a senior management level.
Section 2 of the CHAS assessment covers 'arrangement for health and safety', and if you have a full health and safety policy, you will often find evidence towards this within your policy, and can refer back to those sections within your answers on the application form.
Construction phase plan
Since 2015, the construction phase plan is a document that is required for ALL construction projects. So, if you are a contractor, you will be expected to provide evidence in the form of a copy of a recent construction phase plan which clearly sets out how health and safety is to be managed during the construction phase.
This evidence will be required from sole contractors and principal contractors.
The level of detail in your plan should be proportionate to the risks involved in the project and include sections covering description of the project, management of the work, arrangements for controlling significant site risks and the health and safety file.
Risk assessments and method statements
Risk assessments and method statements must be in place for your activities, as they are an important part of health and safety management. The CHAS assessor expects to see these documents as part of your submission.
You will need to supply CHAS with risk assessments and method statements to cover your work activities, and you can include these in the relevant folders when you are gathering your evidence.
If you need to get your RAMS (risk assessments and method statements) in place, you can use our editable templates:
Once you have created the risk assessments and method statements applicable to your activities, you need to put them in action on site. Make sure your workforce sign to acknowledge that they have read, understand and will comply with these work procedures.
If your documents are signed electronically, you can simply store a copy ready to upload to the CHAS system. If you have hard copies that have been used on site, scan in the signed documents so you have an online copy you can upload. Smartphones or digital cameras can also be used to take a picture of any signed hard copies to get a good electronic version ready to upload.
COSHH assessments
You will need to supply details of any hazardous substances used or stored on your sites or within your offices for your CHAS assessment. Complete and copy across the relevant COSHH documents to the COSHH folder.
You can use our free COSHH register to keep a list of any hazardous substances you are using.
Don't forget to get the material data sheets from suppliers, these will not only help you to complete your COSHH assessment but should also be kept for your records. If you need to get your COSHH records in place, you can use our editable templates:
Training records
You also need to supply evidence that training is given to your employees. This evidence should include a mixture of formal health and safety training records, like course certificates, and other records of on the job training and ongoing information and instruction provided.
If you plan to supply toolbox talks records, you need to have evidence of carrying out toolbox talks on site, such as getting the toolbox talk attendance register signed by those operatives attending the talks. Alternatively you can download a variety of construction toolbox talks for your workforce.
You should also include records of site inductions, this could be done using the site induction checklist form, the site induction register or a record you create yourself. Again, make sure this has been completed on site and scanned in with signatures for your submission folder.
You will also need to supply evidence of other training undertaken by your employees, relevant to your activities, this could include IPAF for scissor lift operatives, PASMA for those erecting and using tower scaffolds, and CSCS cards for all construction operatives. Include these training records in your submission folder for training records.
Work equipment
Work equipment records you should supply as evidence may include a register of the key work equipment used along with any relevant inspection, testing and maintenance records. This is especially important for any high risk equipment such as cranes, mobile access, scaffolding and lifting equipment.
The CHAS assessor will also want to see PAT testing records (portable appliance testing) for portable electrical equipment.
Subcontractor
If you use subcontractors you need to have assessed their competence and keep records of this. Use the subcontractor questionnaire to send out to subcontractors and gather the required evidence.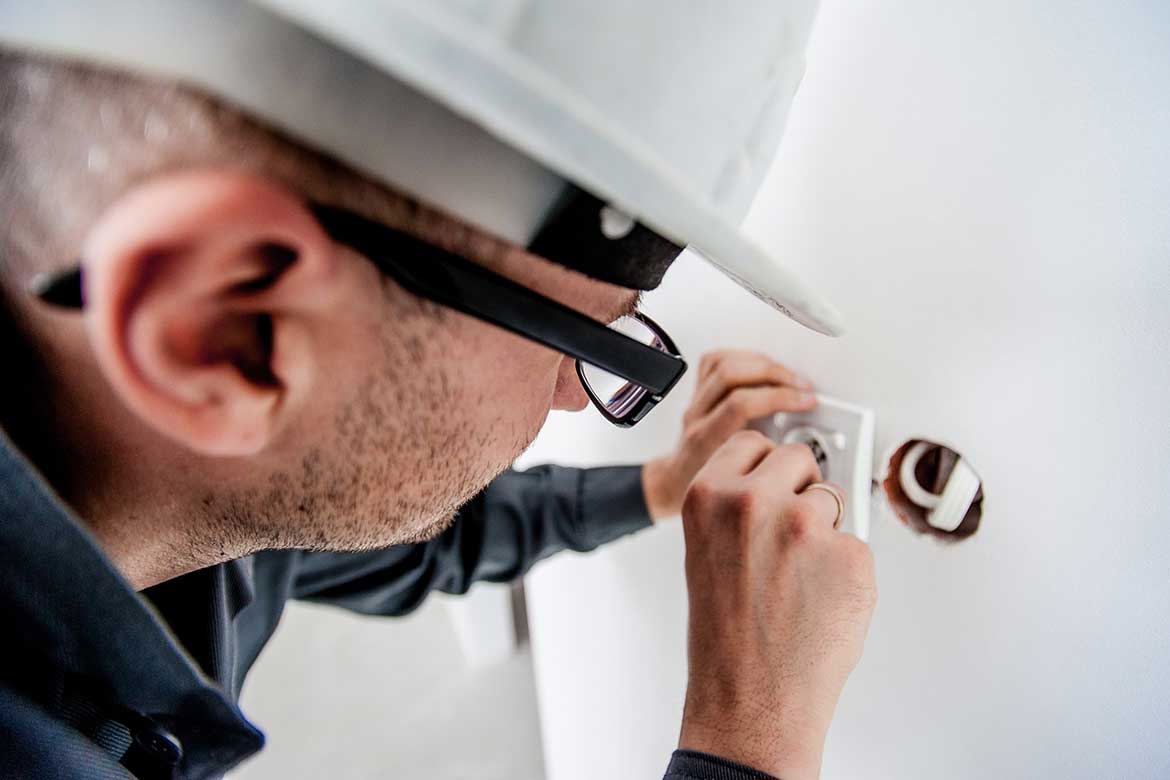 Within your subcontractor folder, create a new folder for each subcontractor and keep the completed questionnaire along with the document requested (subcontractor insurance, risk assessments etc). CHAS won't need to see evidence from every subcontractor used, so just send a selection of 2 or 3 in your CHAS submission.
Asbestos
As one of the biggest health risks facing the construction industry, asbestos is a hot topic for any construction based health and safety management system.
You need to provide evidence that your workforce understands the risks involved and what to do if they find or suspect asbestos containing materials are present.
Documents such as the asbestos toolbox talk and asbestos risk assessment can be completed and provided as evidence. If your employees are likely to be at risk of asbestos you will also need to supply asbestos awareness certificates as evidence of formal training.
Monitoring
The CHAS assessor will want to see that your health and safety management systems and procedures are kept up to date. This means supplying evidence of any monitoring activities you undertake.
This could include informal procedures within a smaller company, such as notes from sites, memos or a write up of a verbal conversation or email correspondence.
It is good, however, to supply evidence of more formal monitoring such as site inspections, health and safety notes from meeting minutes, audits and reviews.
Any evidence you submit should be from the past 12 months.
Involvement
It is a legal requirement to consult and communicate with your workforce on health and safety matters. CHAS expect to see evidence of this.
You don't have to go overboard here, smaller businesses are not expected to have a fully documented procedure in place, but you are expected to provide a record of meeting minutes, memos and safety information issued within the last 12 months. Maybe you involve your workers when planning a project, or during inductions, provide evidence of this.
Larger businesses may have a health and safety committee and can provide examples of the work carried out by the committee and health and safety representatives within the company.
Accident Records
You won't fail CHAS just because there has been an accident within your business. What CHAS do expect is a record that shows accident reporting and investigation is in place.
You should be able to provide a copy of your accident statistics and provide details of 2 accidents (where there have been 2 or more in the past 3 years), along with details of the investigation carried out, and action you have taken to prevent it happening again.
Completing the application
Phew, well done for making it this far! You should now have all your health and safety records in place, and be ready to send your evidence to CHAS. At this point, you are ready to submit your application.
For contractors with 5 or fewer employees (this includes directors) you will usually submit a shorter CHAS application form. This form has fewer evidence requirements compared to the larger application form for contractors with 5 or more employees.
The application is submitted online, so you will need to register with CHAS, and click Apply > Apply as a contractor.
During the application, you will need to enter all your business details, such as name and address, insurance details, along with the categories of work you carry out.
Competent person
You will need to supply details of who your competent person is for general and construction specific health and safety advice. You may be the competent person if you have the relevant experience and understanding of the risks and health and safety requirements surrounding your work activities. Otherwise, you should supply details of where (or who) you go for that advice when you need it.
In many cases, businesses can manage health and safety themselves. In small businesses and for lower risk activities the responsibility of providing competent advice often rests with the owner / director.
Provide CHAS with details of your skills, knowledge and experience, particularly relating to managing health and safety, along with the resources you use for advice such as trade associations, safety groups and providers.
There are times when your businesses might need to get external specialist help, particularly on more detailed, high-risk, complex or technical issues. You can sign a declaration to say that you will seek construction related health and safety advice on a project by project basis if this is the route you take as a smaller contractor.
Upload evidence
Now you can work your way through the online CHAS application form, and upload all the records you have created as your evidence.
If there is anything you have missed, you can save your application, get the evidence you need, and go back to the application to upload it. Our top tip here is not to skip anything (unless it doesn't apply to your business), as it will likely result in a fail.
Submit your application!
When your application is ready, and all your evidence uploaded, go ahead and submit it to CHAS for your assessment.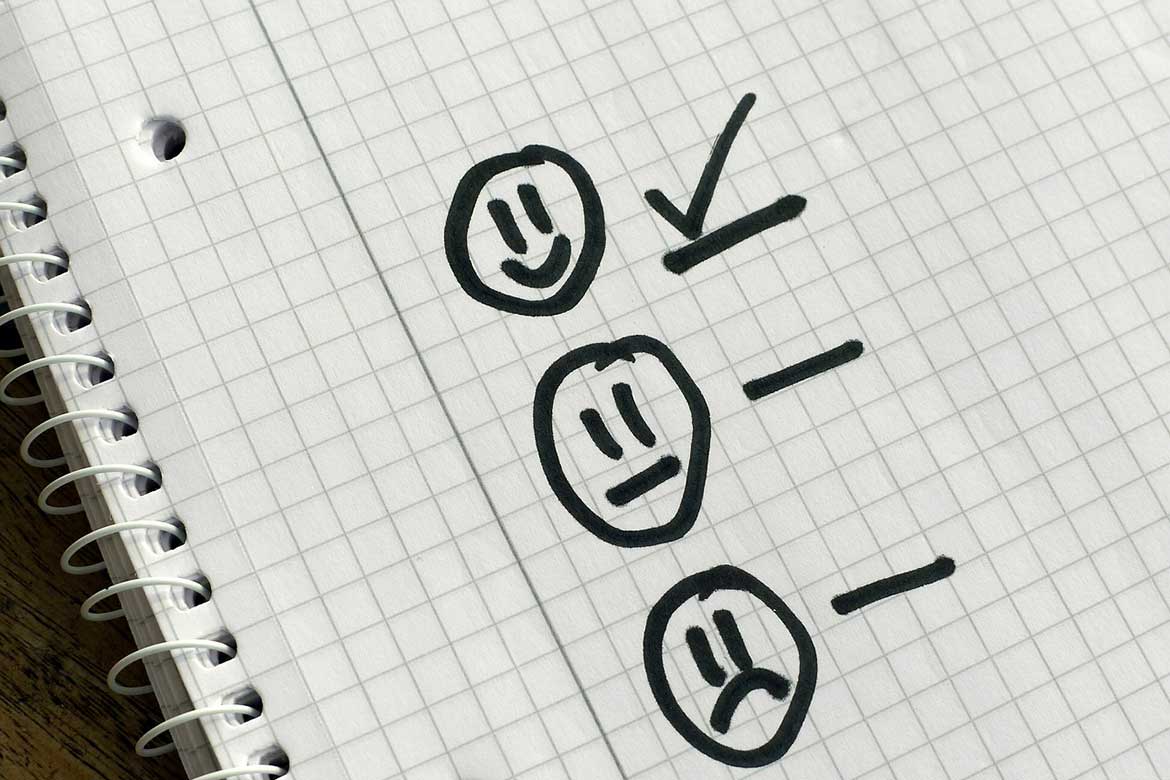 After successfully passing the CHAS application, you will get a certificate from CHAS and you can also use the logo on your stationery and promotional materials. Take full advantage of this, and show off your health and safety accreditation badge of honour to potential clients to get yourself on their list of approved contractors.
How to fix a fail
If you fail the first time, it's not the end of your CHAS hopes. As we have already discussed, around 80% of small to medium size businesses fail the CHAS application first time, so you are in the majority!
Don't give up.
If any extra information is required (based on your companies specific activities) the CHAS assessor will come back to you after reviewing your initial submission to advise you and give you the opportunity to submit this.
They will often point you in the right direction for what they want to see, and let you know if any specific records need clarification or are out of date.
We hope this guide helps you get your CHAS accreditation. The application can be daunting the first time, but it is achievable and going through the process can also help you find ways to improve your health and safety management.