Work at height will usually involve edge protection, particularly when working off a temporary platform, like scaffolding. Because an employer's first duty (after eliminating work at height where practical), is to prevent falls. But what are the requirements for edge protection?
(3) Where work is carried out at height, every employer shall take suitable and sufficient measures to prevent, so far as is reasonably practicable, any person falling a distance liable to cause personal injury.
Usually, health and safety regulations are not prescriptive. This means they tell you what to do but not exactly how to do it. Because every workplace is slightly different. So it's the employer's legal health and safety responsibility to assess the risks and put in place appropriate controls to reduce the risks, as low as reasonably practicable (ALARP).
But there are occasions where health and safety regulations do get prescriptive. And one of those occasions is in schedule 2 of the Work at Height Regulations (WAHR), which tells you what height handrails/guardrails should be for construction work.
In relation to work at height involved in construction work—

the top guard-rail or other similar means of protection shall be at least 950 millimetres or, in the case of such means of protection already fixed at the coming into force of these Regulations, at least 910 millimetres above the edge from which any person is liable to fall;
toe-boards shall be suitable and sufficient to prevent the fall of any person, or any material or object, from any place of work; and
any intermediate guard-rail or similar means of protection shall be positioned so that any gap between it and other means of protection does not exceed 470 millimetres.
Providing edge protection providing sufficient work equipment for preventing, so far as is reasonably practicable, a fall occurring.
Before we look into these heights in more detail, it's important to remember that edge protection (like barriers and guardrails) comes under what the regulations describe as sufficient work equipment for preventing, so far as is reasonably practicable, a fall occurring.
Any structure or part of a structure which supports means of protection or to which means of protection are attached shall be of sufficient strength and suitable for the purpose of such support or attachment.
In addition to the height requirements, you also need to ensure that any edge protection used is also strong, secure and fit for purpose. This includes the guardrails, boards, and the structure they are attached to. After all, if a handrail collapses the moment someone leans on it, it's not preventing any falls.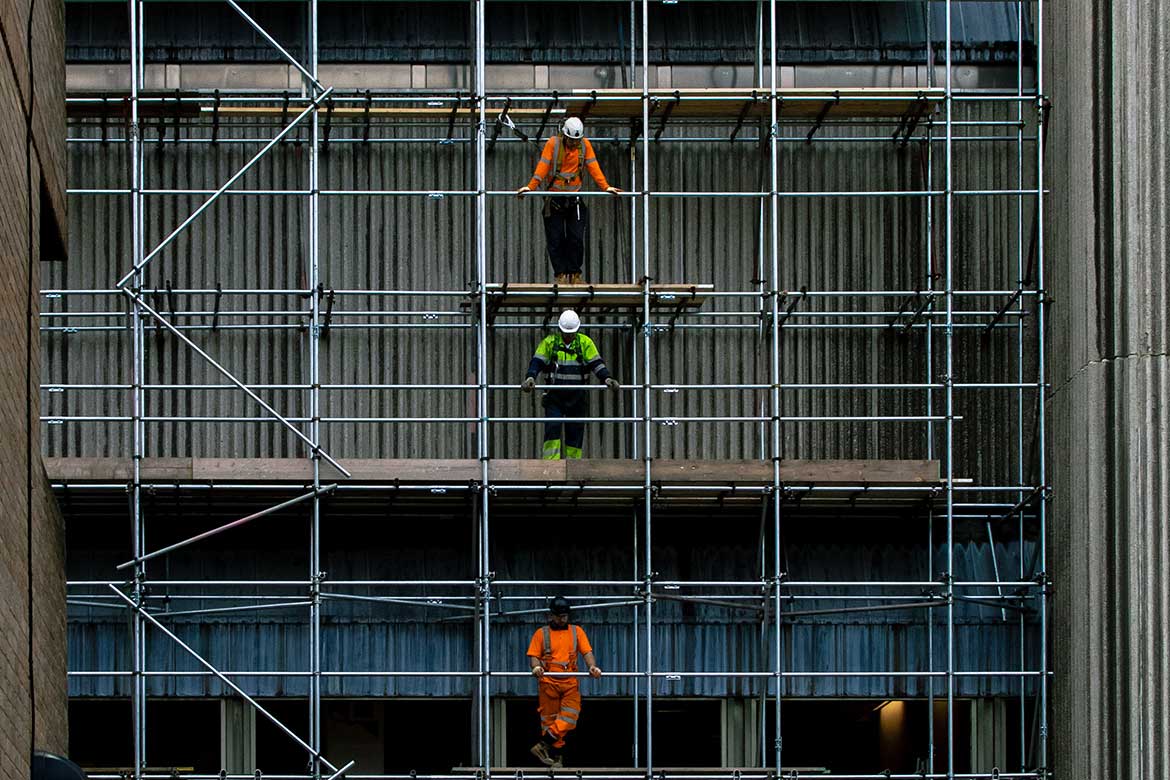 Handrail height
At least 950mm
The regulations required the top guardrail (often referred to as the handrail) to be at least 950mm high. There's a small exception in that handrails already in place before 2005 could be at least 910mm high. However as this was over 15 years ago it's unlikely to apply to many construction projects, and it doesn't apply to any handrails you install today.
Installation of handrails any lower than 950mm and not only are you breaking the law but there's a risk that people could fall over the top. And falls from height can quite easily be fatal. Work at height is one of the top construction hazards because resulting the injuries are usually serious.
The regulations require the top guardrail to be at least 950mm, so of course, you can choose to go much higher if you like, for example, the full height of a person, or on scaffolding, provide edge protection full height to the platform above. But how would you stop falls below it? We need intermediate rails.
At least 470mm
Now imagine a handrail 950mm high. 950mm is quite a big gap. A person could easily fall through that kind of a gap, especially if they are crouched down to carry out work, or to pick up a tool or materials. That's why intermediate rails are required. And they are required at least every 470mm.
That doesn't mean that the intermediate rail has to be installed at exactly 470mm. It means that no vertical gap in your edge protection should be larger than 470mm. In practice, if your top rail is 950mm, and your toeboard is 150mm (more on this next), you're looking at a gap of 800mm. So in this case an intermediate rail at 550mm would give you a gap above and below at 400mm.
Of course, if your top guard rail is higher than 950mm, for example, you have chosen to have full height edge protection, you may need multiple intermediate rails to make sure no gaps are exceeding the 470mm limit.
Toeboard height
Suitable and sufficient
Unlike rails, toeboards are solid barriers installed at the bottom of your edge protection. There's no gap, they join at a right angle to the platform, and are used to stop things from falling or rolling off the platform. And unlike the top and intermediate rails for your edge protection, there are no prescriptive minimum heights for toeboards in construction work.
But this doesn't mean that toeboards are optional. Instead, toeboards must be suitable and sufficient to prevent falls. And not just of people. But of materials and objects (e.g. tools, equipment, waste) too.
So what is suitable and sufficient? Well, the reason there's no minimum height is that what's suitable a sufficient on one construction platform might not be in the next. It really depends on what objects or materials are likely to fall, and how stable they are.
Standard toeboards are usually around 150mm in thickness. You might want a higher toeboard to act as a barrier if you have tall tools or equipment that can easily topple over. You might also give greater concern if people are working below the work area. You will probably want to put extra controls in place if you are working above members of the public who won't be wearing hard hats.
---
You can get the full wording in Schedule 2 of the WAHR, and read more on our blog with 40+ daily scaffolding safety checks.