I heard a lot of 'ladder lies' on the first construction site I worked on. There was a lot of confusion amongst the team about what was and wasn't allowed when it came to ladder use. I was told that ladders were banned (they weren't). Ladder use is against the law on construction sites (it's not). Ladders are dangerous (they aren't - if used correctly). You can't use ladders over 3m tall (that ones not true either!).
Before we dive deeper into the law on ladders, let's cover some key facts:
Ladders are access equipment
Ladders are not banned
Ladders are best for short-duration work at height
Ladders are not working platforms
There is no maximum working height for ladders
You do need to risk assess ladder use to determine if ladders are suitable for the task
Ladders are one of the most accessible items of equipment for working at height. They are cheap. Easy to use. And most of us problem have one in the garage or a storage cupboard. But because ladders are so easy to get hold of, they tend to get used for things they shouldn't. And because we are all so familiar with ladders, we think we don't need training, or we forget the basic ladder safety rules. And that's when problems can happen.
Are ladders banned?
No, ladders are not banned. Not by law anyway. Some main contractors do restrict the use of ladders on their sites, but this isn't because ladders are against the law. Instead, restrictions on ladders tend to be because the work carried out is higher risk or requires a safe working platform, and other working at height equipment like tower scaffolds, or MEWPS, are provided.
Where the measures taken under paragraph (4) do not eliminate the risk of a fall occurring, every employer shall—

a) so far as is reasonably practicable, provide sufficient work equipment to minimise—

i) the distance and consequences; or
ii) where it is not reasonably practicable to minimise the distance, the consequences, of a fall;
While ladders are not banned by law, health and safety regulations do cover ladder requirements and ladders should only be used when it is safe to do so. In construction especially, temporary access for working at height is often required. To minimise the distance and consequences of a fall, it is often much safer to use a temporary working platform with edge protection, especially for longer duration work at height.
What does the law say about ladders?
Ladders don't have their own set of the health and safety regulations, but ladder use is covering under the Work at Height Regulations. This set of regulations cover all working at height, in all workplaces. Specifically, when work at height cannot be avoided, the regulations cover competence, selection and requirements of work equipment. And most of the time, ladders won't be the right choice. Because:
Ladders are not working platforms
Ladders have no edge protection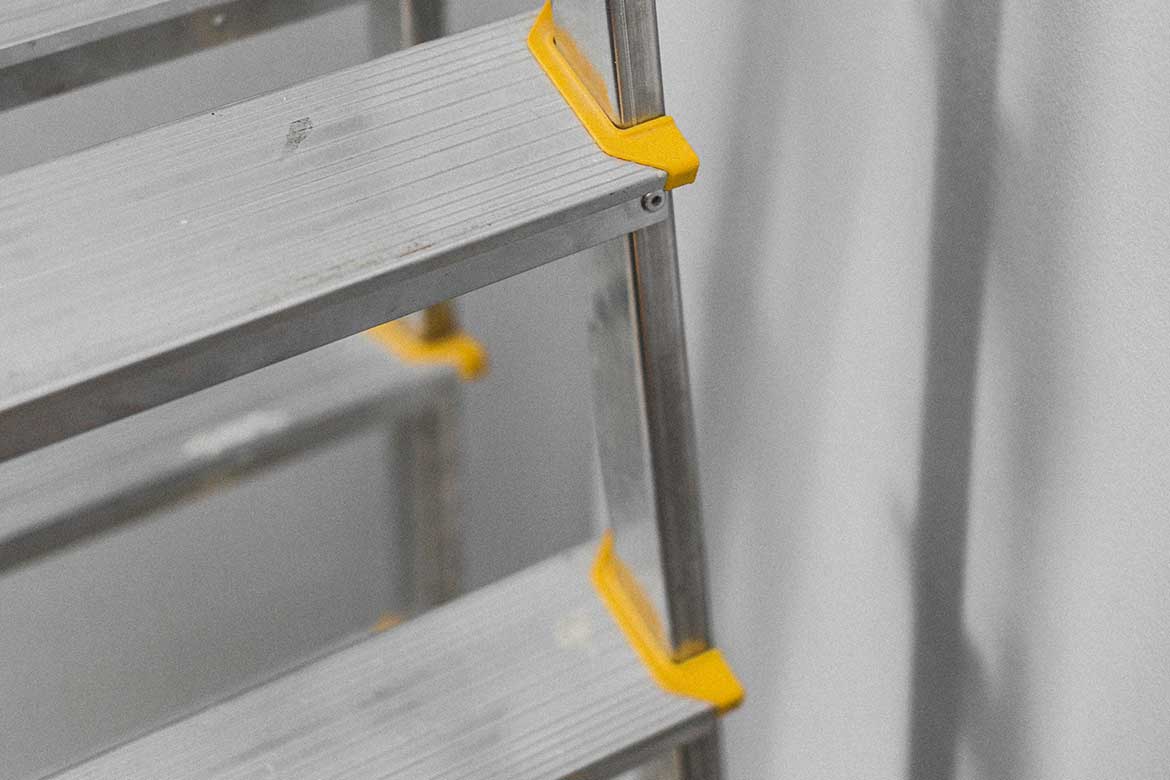 In many situations, scaffolding, cherry pickers, boom lifts and other platforms with edge protection or in combination with harnesses, netting systems or other restraint systems will be safer and prevent falls. But what about access and short-duration work, like changing a lightbulb or fixing a loose tile?
Every employer shall ensure that a ladder is used for work at height only if a risk assessment under regulation 3 of the Management Regulations has demonstrated that the use of more suitable work equipment is not justified because of the low risk and—

the short duration of use; or
existing features on site which he cannot alter.
If you have assessed the work and determined that it's safe and suitable to use a ladder, then Schedule 6 of the Work at Height Regulations covers the requirements for ladders.
In summary, the requirements are that:
Ladders are used only where more suitable work equipment is not justified.
Ladders are rested on stable surfaces of sufficient strength to support the ladder and any additional loads (e.g. the person using it and any tools or equipment they carry).
Ladders are positioned to remain stable during use.
Suspended ladders are attached and secured to prevent swinging.
Portable ladders are secured to prevent slipping.
Access ladders protrude sufficiently above the place of landing or a handhold is provided.
Interlocking or extension ladder sections are prevented from moving during use.
Mobile ladders are prevented from moving before they are stepped on.
Landing areas or rest platforms are provided at suitable intervals for a ladder or run of ladders more than 9m.
Every ladder shall be used in a way that ensures a secure handheld and support is available to the user, and the user can maintain a safe handhold or remains safe when carrying a load.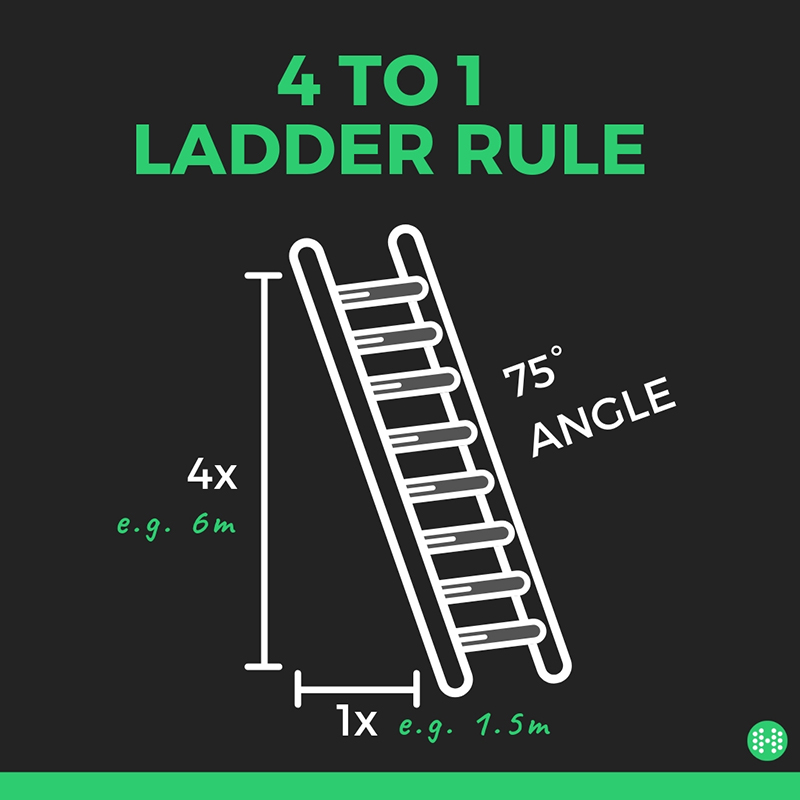 What's the maximum working height for ladders?
There is no legal maximum working height for a ladder. But remember, ladders are best for access, and low-risk short duration work at height. Working at height is dangerous, and falls from height are often the top cause of fatal accidents at work (according to HSE statistics). Work at a very high level is unlikely to be low risk.
You should also provide landing areas or rest platforms at suitable intervals, where a ladder rises 9m or more.
There is no maximum height for using a ladder. However, where a ladder rises 9 metres or more above its base, landing areas or rest platforms should be provided at suitable intervals.
---
Find out more about safe ladder use in the 10 rungs (and rules) of ladder safety, and download the free ladder use toolbox talk for your team.
This article was written by Emma at HASpod. Emma has over 10 years experience in health and safety and BSc (Hons) Construction Management. She is NEBOSH qualified and Tech IOSH.