Sometimes work at height can't be avoided. And scaffolds are often used as a safe form of access.
But work at height is dangerous. It's our top construction safety hazard. And over 60% of deaths from work at height involve falls from scaffolds, ladders, working platforms and roofs. This statistic shows that while scaffolding aims to provide a safe working platform for work at height, it isn't always the case.
Scaffolds are complex temporary structures. And one that will often need to be altered during its use so work can take place at different levels. Because as a building is constructed, or if refurbishment and maintenance works are carried out, different areas may need to be accessed at different times.
If scaffolding isn't designed correctly, installed safely, or maintained appropriately, it can become unsafe.
But how do you know if your scaffold is safe?
In this blog post, we detail 40 common scaffolding faults. If you find even one of these, it could undermine the whole structure.
There are so many different elements to a scaffold. Scaffolding safety checks should be made on all of the different components, including:
Footings
Standards
Ledgers
Bracing
Putlogs
Transoms
Couplings
Bridles
Ties
Boarding
Guardrails
Toeboards
Ladders
All scaffold design, erection and installations must be carried out by a competent person. Once the scaffold is signed off and handed over for use, you need to make sure it stays safe, and suitable for the work.
A competent person must carry out a scaffold inspection at least every 7 days noting any defects and corrective actions taken.
You can keep a record of scaffold inspections to ensure you comply with legal requirements with the scaffold register form.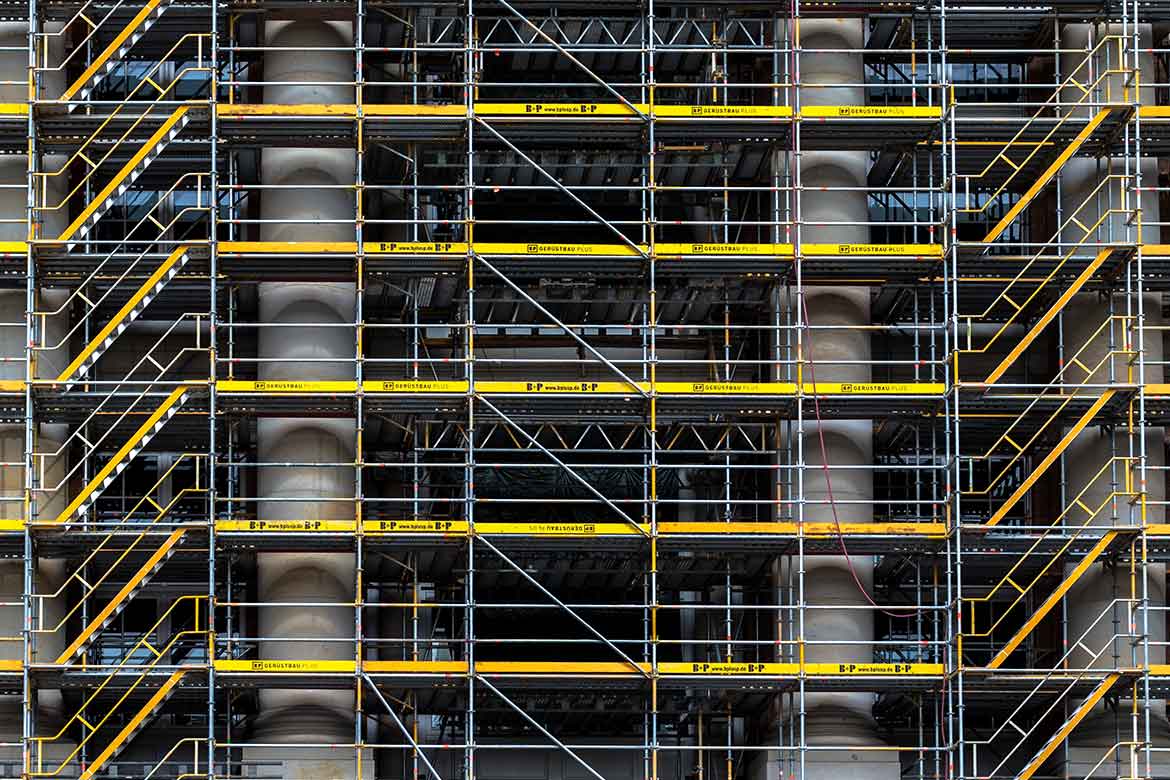 There are many ways a scaffold can become unsafe during its use. It could get damaged, from contact with a vehicle or site plant, or bad weather like strong winds. It could be altered by someone who is not authorised to do so. Or it could be overloaded.
The importance of ensuring scaffolds remain safe is seen all too often when the worse happens, a scaffolding collapse occurs.
Regular scaffold inspections are a legal requirement. Find out more about the 3 times when a scaffold must be inspected.
A scaffold collapse usually results in serious injuries or fatalities. It could harm those working on the scaffold. And also injure anyone beneath or near the scaffold when it collapses.
For the safety of those using the scaffold as a means of access and working platform, it is important to be able to recognise common scaffolding faults and stop use should any unauthorised alterations be made, e.g. removing guardrails or moving boards. Unauthorised alterations increase the risk of falls and make the scaffold an unsafe place of work.
Here is a checklist of common scaffolding faults, that need urgent attention if identified:
The footings of the scaffold are usually the metal base plates at the bottom of the scaffold standards, on top of timber sole plates/boards to distribute the load over the ground.
Faults:
Soft and uneven
No base plates
No sole plates
Undermined
Standards
Standards are upright tubes or poles used as vertical support.
Faults:
Not plumb
Jointed at the same height
Wrong spacing
Damaged
Ledgers
A ledger is a horizontal tube tying standards horizontally.
Faults:
Not level
Joints in the same bay
Loose
Damaged
Bracing
Bracing tubes span diagonally to strengthen and prevent movement.
Faults:
Some missing
Loose
Wrong fittings
Putlogs and transoms
A putlog is a tube flattened at the end spanning from a ledger to the wall of a building. A transom is a tube spanning across ledgers to tie a scaffold transversely and may support a working platform.
Faults:
Wrongly spaced
Loose
Wrongly supported
Couplings
Scaffold couplings are metal components or fittings used to connect the scaffold components together.
Faults:
Wrong fitting
Loose
Damaged
No check couplers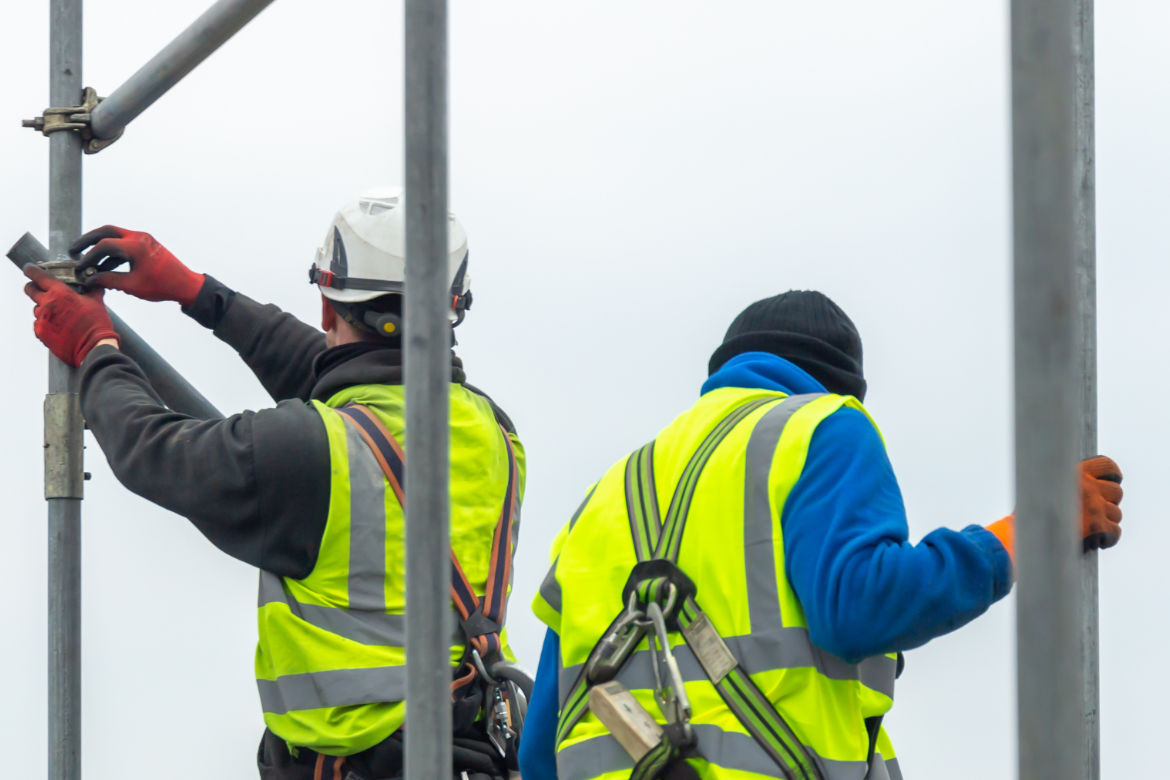 Bridles
A bridle is a tube fixed across an opening or parallel to the face of a building to support the inner end of a transom or tie tube.
Faults:
Wrong spacing
Wrong couplings
No check couplers
Ties
Ties are used to connect the scaffold into stable parts of a building or structure to keep the scaffold stable.
Faults:
Some missing
Loose
Not enough
Boarding
Scaffold boards are usually timber and butted together to provide a safe horizontal working platform.
Faults:
Bad boards
Trap boards
Incomplete
Insufficient supports
Guardrails & toeboards
Guardrails are horizontal tubes fitted to standards along working platforms to prevent falls, and toeboards are usually timber and fitted at the base of working platforms to prevent persons, materials and tools from falling.
Faults:
Wrong height
Loose
Some missing
Damaged
Ladders
Ladders are used to provide access to different levels of the scaffold, although sometimes steps will be used to improve safety.
Faults:
Damaged
Warped
Insufficient length
Not tied
No handhold available
---
The checks above are common scaffolding faults to look out for that show you the scaffold structure is unsafe. If you find any faults during a visual check, you should get a competent person to inspect and rectify the issues, before using the scaffolding.
Any scaffolds installed on your sites should have the following arrangements in place:
Handover certificate
7-day inspections
Daily visual checks
Alterations by a competent person
Stay within safe working loads
7-day inspections are the maximum periods between inspections, but remember that if anything changes that may affect the structure of the scaffolding, for example, bad weather or damage, you will need to inspect the scaffold sooner.
Scaffolds are designed to provide a safe working platform and access for working at height. As with any temporary structure, check your scaffolding regularly to make sure it remains safe throughout its use.
Remember to get your scaffold inspected by a competent person at 7-day intervals, and after installation or changes to the scaffold structure.
Use the scaffold inspection checklist to keep a record of your scaffold checks on site.