There have been 95 prosecutions under CDM since the latest version came into force in 2015. 46 of those prosecutions occurred in 2018, which also saw the largest fine to date under CDM 2015 (£800,000) and the first prison sentence.
The Construction (Design and Management) Regulations, often referred to as the CDM regulations, have been around for some time. However, it looks as though the HSE are becoming much more active in taking action against businesses found to be in breach of the regulations.
There were 305 prosecutions under the previous CDM 2007 version, with the largest fine being £1.5m in a 2016 prosection.
While that's more prosecutions overall compared to CDM 2015, prosecutions under the 2015 version only really started hitting the courts in 2016 as cases take time to prepare.
We could only find 8 prosecutions under CDM 1994, which as far as trends go, certainly shows that there has been a big increase in action taken by the HSE in more recent years. The fines were also smaller, the biggest being £16,000. It should also be noted that CDM covers more now than it did then.
What can we learn about CDM from these prosecutions? What punishments have been given, what breaches are most common, and how can you avoid the same mistakes?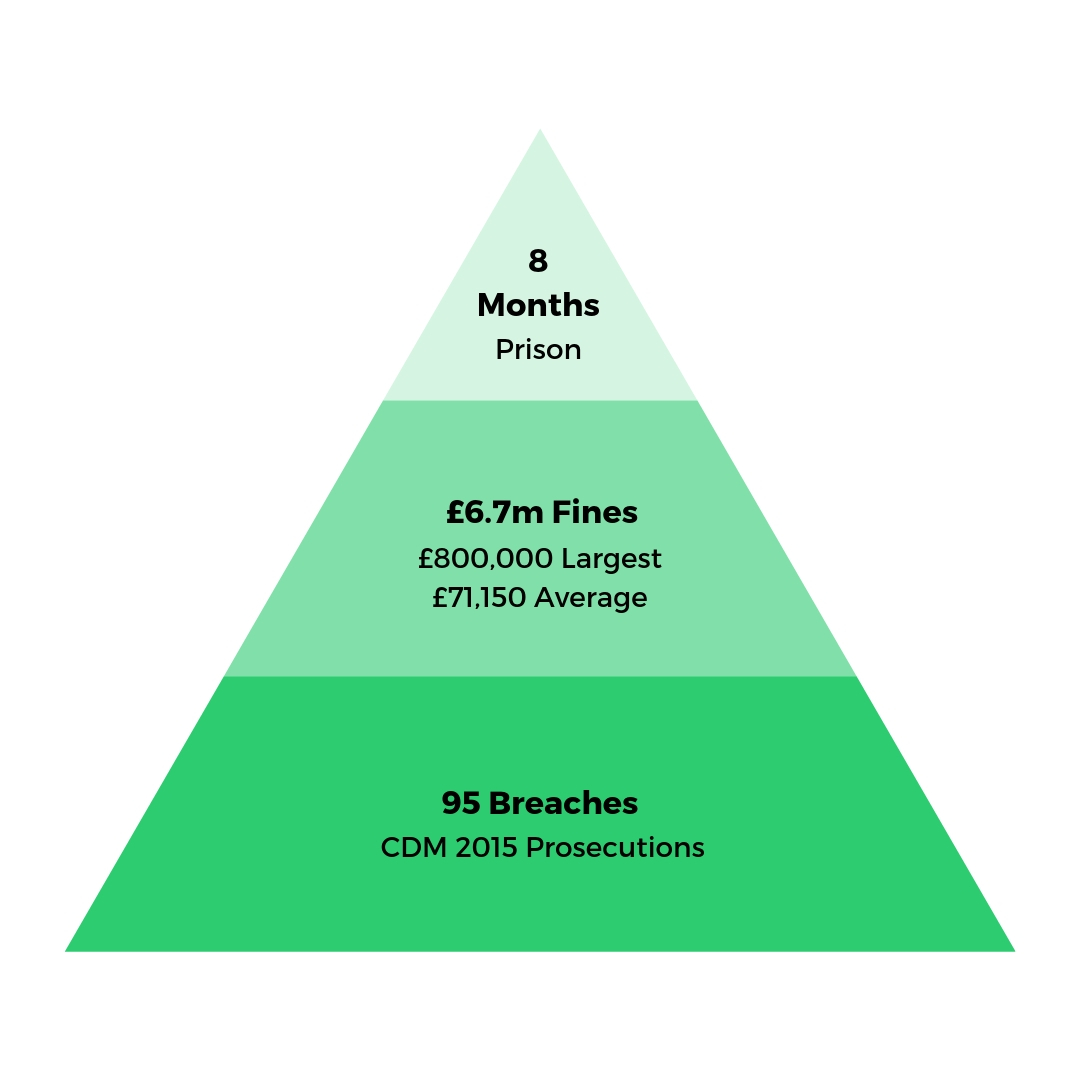 Prison Time
In 2018, a Manchester-based property developer was sentenced to 8 months in prison for breaches under CDM. The primary breach was under part 4 of the regulations for the stability of structures. This was a serious case, involving the uncontrolled partial collapse of a structure (although no one was hurt due to the closure of the unsafe site by the HSE).
Stability of structures

(1) All practicable steps must be taken, where necessary to prevent danger to any person, to ensure that any new or existing structure does not collapse if, due to the carrying out of construction work, it—

may become unstable; or
is in a temporary state of weakness or instability.
2018 also saw the handing out of a suspended sentence and 2 cases resulting in community services for breaches under CDM 2015.
Fines
The vast majority of CDM 2015 prosecutions result in fines. They can range from a few thousand to hundreds of thousands of pounds. Breaches under CDM have seen thousands of over 1 million pounds in the past, so significant penalties can be expected for major breaches.
Biggest Fine £800,000
The largest fine so far under CDM 2015 (£800,000) was given in January 2018. The company involved breached regulation 13. This relates to the principal contractor's duty to plan, manage and monitor the construction phase, and carry out work without risk to health and safety.
The total fine in this court case was actually £1.1m, as the subcontractor involved was also fined (although under the Work at Height Regulations).
Average Fine £71,150
The average fine resulting from prosecutions under CDM 2015 is a whopping £71,150.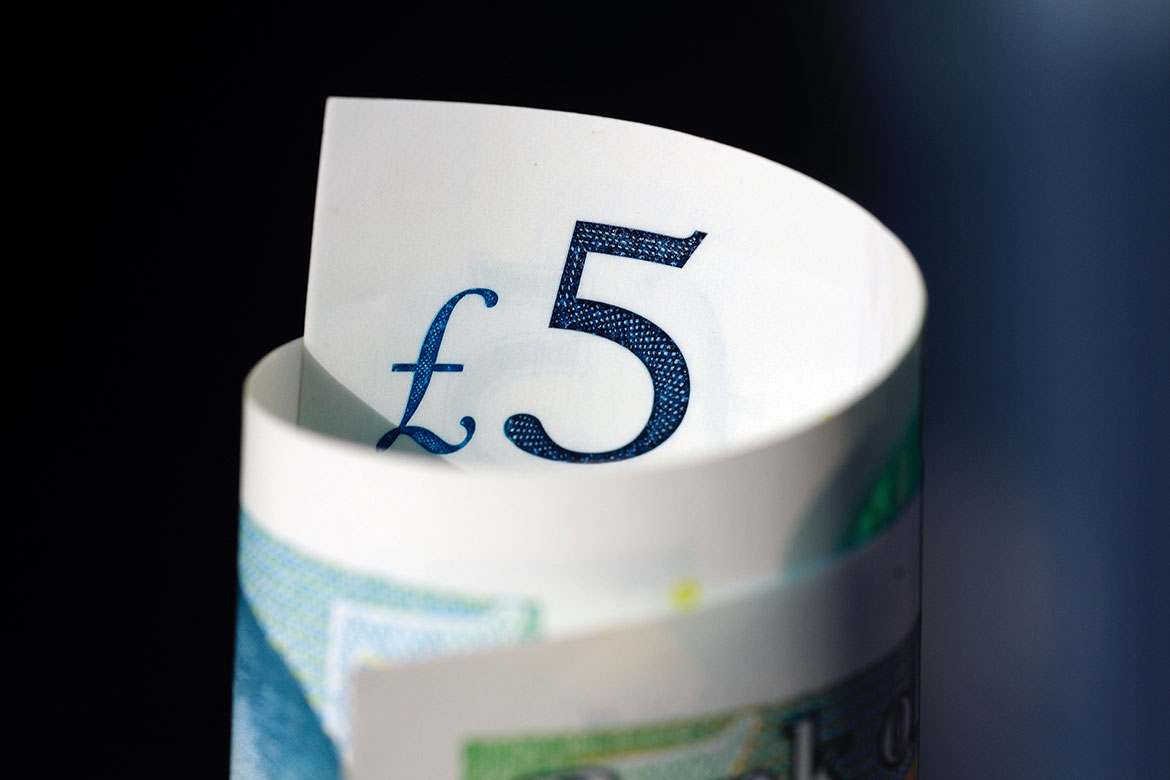 Total Fines £6.7m
Since the first prosecution under CDM 2015 in August 2015, there have been 86 fines issued totalling £6,759,283.
Breaches
So what can we learn, other than failing to comply with CDM can result in mega-fines and prison time?
When prosecuting under CDM, the HSE specify the particular part of the regulation that has been breached. This gives us an idea of what part of the regulations people and businesses are failing to comply with.
The following breakdown shows where the majority of CDM 2015 breaches occurred.
Regulation 4 (9 Breaches) Client Duties
Regulation 6 (2 Breaches) Notification
Regulation 11 (1 Breach) Principal Designer Duties
Regulation 13 (29 Breaches) Principal Contractor Duties
Regulation 15 (24 Breaches) Contractor Duties
Regulation 16 (2 Breaches) Part 4
Regulation 17 (2 Breaches) Safe Places of Work
Regulation 18 (2 Breaches) Good Order and Site Security
Regulation 19 (6 Breaches) Stability of Structures
Regulation 20 (2 Breaches) Demolition
Regulation 22 (8 Breaches) Excavations
Regulation 25 (2 Breaches) Energy Distribution
Regulation 27 (2 Breaches) Traffic Routes
Regulation 28 (1 Breach) Vehicles
Regulation 29 (3 Breaches) Fire, Flooding or Asphyxiation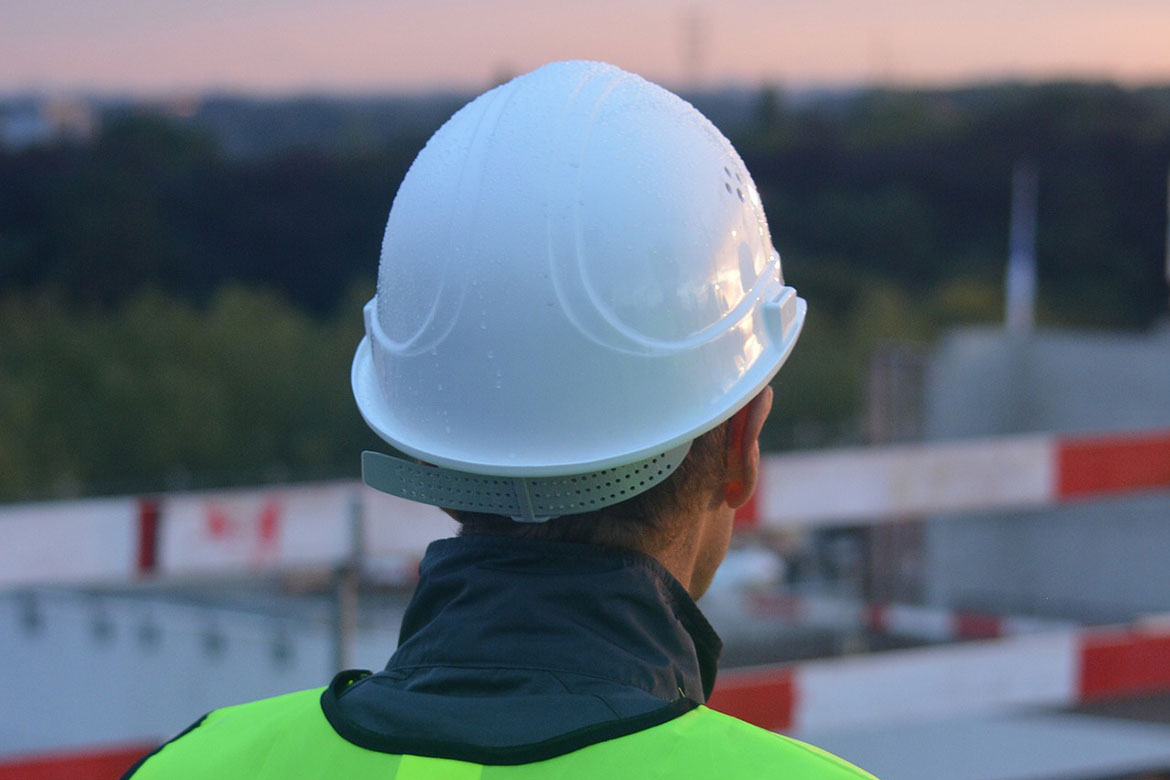 Most of the breaches (over 50%) have been by principal contractors and contractors failing to comply with their CDM duties. The majority of the defendants in these cases were contractors and sub-contractors.
However, there are also a significant amount of prosecutions under Regulation 4 (Client Duties). This shows the importance of clients understanding what they need to do under CDM, and making sure they do it.
If you need help with your CDM duties, you can use our free CDM duty holder guides.
Data
95 prosecutions listed on the HSE prosecutions database (see data below for a summary). Some defendants were prosecuted for multiple breaches, each breach is listed as its own case in the HSE data.
| Case | Date | Result | Amount | Breach |
| --- | --- | --- | --- | --- |
| 45453740/02 | 07/11/2018 | Fine | £100,000.00 | 15 |
| 45681360/01 | 06/11/2018 | Fine | £30,000.00 | 19 |
| 45449370/01 | 10/10/2018 | Fine | £200,000.00 | 13 |
| 45210360/01 | 04/10/2018 | Fine | £25,000.00 | 15 |
| 45527680/02 | 29/08/2018 | Fine | £80,000.00 | 15 |
| 45223440/01 | 27/07/2018 | Community Service | £0.00 | 13 |
| 44051590/01 | 24/07/2018 | Fine | £22,000.00 | 4 |
| 44051590/02 | 24/07/2018 | Fine | £0.00 | 6 |
| 44051590/03 | 24/07/2018 | Fine | £0.00 | 6 |
| 44051590/04 | 24/07/2018 | Fine | £540,000.00 | 4 |
| 45111360/01 | 20/07/2018 | Prison | £0.00 | 19 |
| 44993150/01 | 11/07/2018 | Fine | £270,000.00 | 15 |
| 44993170/01 | 11/07/2018 | Fine | £270,000.00 | 13 |
| 44920790/01 | 02/07/2018 | Fine | £20,000.00 | 4 |
| 44920790/02 | 02/07/2018 | Fine | £0.00 | 4 |
| 45178910/01 | 02/07/2018 | Prison Suspended | £0.00 | 15 |
| 45659530/02 | 06/06/2018 | Fine | £2,000.00 | 22 |
| 45659690/01 | 06/06/2018 | Fine | £2,000.00 | 22 |
| 44967960/01 | 25/05/2018 | Fine | £566,670.00 | 25 |
| 45424960/01 | 23/05/2018 | Fine | £20,000.00 | 19 |
| 45186580/01 | 22/05/2018 | Fine | £10,000.00 | 11 |
| 45315000/01 | 10/05/2018 | Other | £0.00 | 22 |
| 45210410/01 | 02/05/2018 | Fine | £7,692.00 | 15 |
| 44412990/04 | 30/04/2018 | Fine | £5,000.00 | 20 |
| 44412990/05 | 30/04/2018 | Fine | £15,000.00 | 15 |
| 44413040/01 | 30/04/2018 | Fine | £3,000.00 | 13 |
| 44413040/02 | 30/04/2018 | Fine | £3,000.00 | 13 |
| 44413080/01 | 30/04/2018 | Fine | £2,500.00 | 4 |
| 44413080/02 | 30/04/2018 | Fine | £2,000.00 | 4 |
| 44991730/01 | 30/04/2018 | Fine | £30,666.00 | 13 |
| 45527680/01 | 23/04/2018 | Fine | £80,000.00 | 15 |
| 45527750/01 | 23/04/2018 | Community Service | £0.00 | 15 |
| 45329680/01 | 04/04/2018 | Fine | £2,590.00 | 20 |
| 45438120/02 | 04/04/2018 | Fine | £8,000.00 | 15 |
| 45340660/02 | 22/03/2018 | Fine | £4,600.00 | 28 |
| 45340660/05 | 22/03/2018 | Fine | £4,600.00 | 15 |
| 44993120/01 | 16/03/2018 | Fine | £5,000.00 | 4 |
| 44993120/02 | 16/03/2018 | Fine | £40,000.00 | 13 |
| 44855890/01 | 08/03/2018 | Fine | £26,000.00 | 15 |
| 44855950/01 | 08/03/2018 | Fine | £31,500.00 | 13 |
| 45244490/01 | 07/03/2018 | Fine | £50,000.00 | 13 |
| 44732600/01 | 21/02/2018 | Fine | £1,500.00 | 15 |
| 44810450/01 | 13/02/2018 | Fine | £500,000.00 | 27 |
| 45121220/01 | 31/01/2018 | Fine | £45,000.00 | 13 |
| 44847970/01 | 18/01/2018 | Fine | £18,120.00 | 19 |
| 44613260/01 | 04/01/2018 | Fine | £800,000.00 | 13 |
| 44979240/01 | 13/12/2017 | Fine | £40,000.00 | 13 |
| 45133570/01 | 09/11/2017 | Fine | £25,000.00 | 13 |
| 44902520/01 | 26/10/2017 | Fine | £10,000.00 | 15 |
| 44902520/02 | 26/10/2017 | Fine | £10,000.00 | 13 |
| 44527110/01 | 09/10/2017 | Fine | £25,000.00 | 15 |
| 44832930/02 | 28/09/2017 | Fine | £50,000.00 | 13 |
| 44832930/03 | 28/09/2017 | Fine | £50,000.00 | 13 |
| 45017970/01 | 19/09/2017 | Fine | £50,000.00 | 15 |
| 44959720/01 | 24/08/2017 | Fine | £145,000.00 | 13 |
| 44992340/01 | 24/08/2017 | Fine | £113,000.00 | 15 |
| 44980230/03 | 07/07/2017 | Fine | £600.00 | 15 |
| 44886660/02 | 28/06/2017 | Fine | £13,170.00 | 13 |
| 44996240/01 | 21/06/2017 | Fine | £27,000.00 | 19 |
| 44927890/01 | 15/06/2017 | Fine | £44,445.00 | 15 |
| 44779360/01 | 14/06/2017 | Fine | £1,800.00 | 4 |
| 44399710/01 | 13/06/2017 | Fine | £180,000.00 | 15 |
| 44427240/02 | 12/06/2017 | Fine | £10,000.00 | 4 |
| 44880280/02 | 23/05/2017 | Other | £0.00 | 18 |
| 44532140/01 | 17/05/2017 | Fine | £325,000.00 | 22 |
| 44915880/01 | 09/05/2017 | Fine | £110,000.00 | 15 |
| 44933340/01 | 06/04/2017 | Fine | £13,330.00 | 16 |
| 44868240/01 | 24/03/2017 | Fine | £112,000.00 | 13 |
| 44763080/01 | 23/03/2017 | Fine | £52,000.00 | 13 |
| 44682550/01 | 21/03/2017 | Fine | £145,000.00 | 13 |
| 44605430/01 | 08/03/2017 | Fine | £600,000.00 | 25 |
| 44848060/01 | 01/03/2017 | Fine | £3,000.00 | 16 |
| 44848060/02 | 01/03/2017 | Fine | £3,000.00 | 17 |
| 44537200/03 | 07/02/2017 | Fine | £100,000.00 | 15 |
| 44449600/01 | 27/01/2017 | Fine | £50,000.00 | 22 |
| 44694720/01 | 09/12/2016 | Fine | £24,000.00 | 13 |
| 44694750/01 | 09/12/2016 | Fine | £20,000.00 | 15 |
| 44483370/01 | 24/11/2016 | Fine | £70,000.00 | 13 |
| 44757490/01 | 09/11/2016 | Fine | £5,000.00 | 22 |
| 44549600/01 | 10/10/2016 | Fine | £50,000.00 | 19 |
| 44623660/02 | 06/10/2016 | Fine | £20,000.00 | 13 |
| 44202350/01 | 19/09/2016 | Fine | £25,000.00 | 22 |
| 44527390/02 | 11/08/2016 | Fine | £8,000.00 | 15 |
| 44434870/01 | 05/08/2016 | Fine | £60,000.00 | 29 |
| 44434870/03 | 05/08/2016 | Fine | £40,000.00 | 27 |
| 44556130/01 | 11/07/2016 | Fine | £50,000.00 | 13 |
| 44445910/02 | 24/06/2016 | Fine | £71,500.00 | 13 |
| 44447580/01 | 09/06/2016 | Fine | £50,000.00 | 13 |
| 44429350/01 | 28/04/2016 | Fine | £6,000.00 | 13 |
| 44464340/01 | 13/04/2016 | Fine | £20,000.00 | 22 |
| 44464340/02 | 13/04/2016 | Fine | £20,000.00 | 17 |
| 44385720/01 | 14/03/2016 | Fine | £50,000.00 | 13 |
| 44316680/01 | 23/12/2015 | Fine | £4,000.00 | 29 |
| 44316680/02 | 23/12/2015 | Fine | £4,000.00 | 29 |
| 44057080/02 | 20/08/2015 | Fine | £10,000.00 | 18 |