Washing your hands might not sound glamorous, but it's a cheap and easy way to improve health and prevent the spread of germs. Washing your hands properly removes dirt and contaminants, as well as viruses and bacteria. This can remove harmful substances and protect your skin, and stop the spread of illnesses such as food poisoning, flu or diarrhoea.
One of the most common times we expect to wash our hands is after using the toilet. And we all do, don't we? In 2012, a study suggested otherwise...
99% of people interviewed at motorway service stations toilets claimed they had washed their hands after going to the toilet. Electronic recording devices revealed only 32% of men and 64% of women actually did.
Have things improved since 2012? It doesn't look like it, a study in 2018 by YouGov finds "one in six male workers say they don't always wash their hands after having a poo at work". Makes you think twice about shaking hands after a meeting!
You might not just come into contact with germs at work, but also hazardous substances. Cleaning solutions, chemicals, concrete, paints, varnishes, glues. Even if you're wearing gloves or barrier creams, some contamination may happen. If these substances are left on your skin, over time, dermatitis and other skin problems can develop. Dry, cracked, painful skin, that becomes more sensitive, and flare-ups become more regular.
And washing our hands can make a difference. Proper handwashing can remove contaminants, kill bacteria and, well, leave your hands clean. It can keep your skin, and you healthy.
So now we know why we should wash our hands, and it's not exactly a big secret. So why don't some people do it? Well, there can be many reasons. At work the reason could be because it takes time, they are in a rush. Or because the water's too cold. Or too hot. Or maybe there's no way to dry their hands, no dryer or paper towels. Or the towel provided looks dirty.
As an employer, check your welfare facilities.
Are you providing warm water for washing hands, close to toilet facilities? This might seem obvious and a standard requirement. But on places with temporary facilities, it can sometimes be forgotten. And you shouldn't just wash your hands after going to the toilet, but also after handling certain substances and before you eat or drink. Make sure hand washing facilities are readily available in easily accessible locations.
Do soaps and paper towels regularly get changed and restocked? Do hand dryers work? If workers don't have the things they need to wash their hands, they may skip it altogether.
Are toilet and handwashing areas cleaned regularly and maintained? It's hard to get clean in a dirty environment, and there's not much point in washing your hands if you then have to touch a filthy tap afterwards to turn it off. Keeping on top of cleaning in toilet areas is especially important in dirty work environments like garages, warehouses and construction sites.
Now you've provided the right facilities. And know why handwashing is important. And we all know how to wash our hands right? We've been doing it all our lives after all. Well, not always.
Of those that who do wash their hands, often they're doing it wrong. A quick wipe with water is not enough.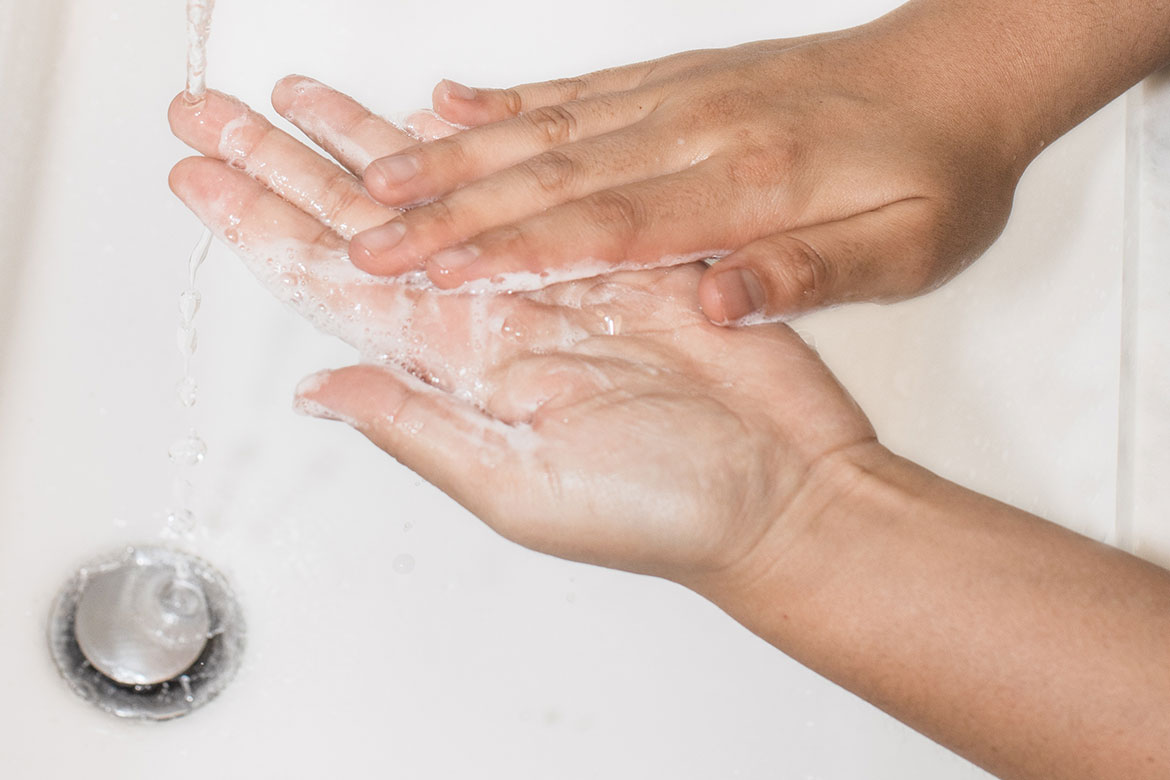 How to wash your hands properly
Washing your hands properly is important if you want to get the full health benefits. Missing a section, like in between the fingers or thumbs, can mean bacteria or dirt remains on your skin. You should pay attention to all areas of both hands, palms, back, fingers, thumbs, wrists and nails.
Use soap and water if available, as this is the best option. Alcohol and antibacterial gels are also used to help protect from infection but are not suitable for cleaning off contamination from harmful substances.
Wet your hands under running water
Put enough soap in your hand to cover both hands
Rub the palms of your hands together to clean the inside of your hands
Rub your palms across the back of both hands
Go up to and include the wrist (and lower arm if contaminated)
Interlock the fingers of both hands to rub soap between them
Rub the back of your fingers against your palms
Rub both thumbs with the other hand to clean them
Rub the tips of your fingers in the palm of the other hands
Rinse your hands with clean running water
Dry your hands with a disposable towel, and use that towel to turn off the tap
---
Find out more about protecting your skin in avoiding dermatitis from cement contact.