We know that our team and users, and the rest of the UK, have been watching the news unfold regarding the COVID-19 outbreak with worry and uncertainty over the past few weeks. As a new disease, there are still many unknowns with exactly how it spreads and how many people will be affected.
This is not a normal flu, and more precautions are needed to protect people. This is a time of worry, not only for the vulnerable groups but also for businesses that are being forced to close (and those that need to stay open). Actions need to be taken for the health and safety of staff, customers, and the wider population.
At work, we should be following the same advice given by the WHO, the NHS and the government, regarding good hygiene, social distancing and self-isolation. But what does this mean for businesses?*
Employers have legal health and safety responsibilities, to their team and anyone else who may be put at risk by the business activities. We also all have a duty of care to each other. Every business should be reviewing their risk assessments at this time, and assessing their work. Ask yourself, how does the coronavirus impact the risk level? What steps can I take to protect my team and clients? Do I need to change the way we work? Provide extra safety measures? Temporarily close?
*As this is a fast-developing situation, please follow the NHS and government information sources while the situation is evolving for the latest guidance.
Business Closures
Of course, if you are a pub, club, restaurant, gym, leisure centre, theatre, cinema, bar or another place where people gather to socialise, you should be closed at the time of writing. This is in force for the health and safety of your team and the public. Schools are also closed (apart from for key workers).
There are likely to be more government ordered temporary closures in the coming days and weeks. And many non-essential shops and businesses are also choosing to close voluntarily, and this is to protect the health and safety of their staff and their customers.
Look at your own business, is your work essential during this crisis? Are people likely to come into contact with others? Are your customers vulnerable? What is the risk? Is it safe to stay open?
You shouldn't be entering the homes of vulnerable people or care-homes, or those of anyone self-isolating (unless you need to for medical reasons and the right precautions are in place). You risk transmitting the virus, to your team, or from your team to others. Even if they appear healthy. In fact, at this time the NHS guidance says that you shouldn't be visiting anyone's homes, including friends and family.
do not have visitors to your home, including friends and family.
Work From Home
Other than key workers (workers in medical and food supply chains), any job that can be done from home, should be done from home, at this time. This is the advice of the government, and it is an important way to stop the spread of the disease. Can you change your way of working to allow your team to work from home?
For some businesses, this will be easier than others. For many administrative and office-based jobs, working from home is probably very possible. But for other service and trade based businesses, it may be more difficult, and you might need to consider putting work on hold or focusing on different areas of your work that can be done from home.
Self Isolation
If a member of your team develops symptoms of the coronavirus, including a cough or a fever, they should self isolate for at least 7 days. If a member of their family, someone they live with, or someone they have come into contact with, has symptoms, they should self isolate for at least 14 days.
Self-isolation is extremely important. Even if you are not showing symptoms, you may have the disease. One study in Italy that has been widely reported in the news, has shown that some people without symptoms can still carry the disease and spread it others, who can then become ill.
The research allowed for the identification of at least six asymptomatic people who tested positive for Covid-19. ''If these people had not been discovered," said the researchers, they would probably have unknowingly infected other inhabitants.
Social Distancing
Social distancing is a safety measure that should be used inside and outside of work. Where work cannot be done from home, and your business has not been asked to close, social distancing is one way of reducing the risk. This needs to be in combination with other measures like good hygiene and self-isolation.
You will probably start to see social distancing enforced in places like supermarkets while stores stay open. This involved staying at least 2m away from anyone else, even if they appear healthy. The coronavirus can take a while to develop symptoms, so even a healthy person may spread the disease.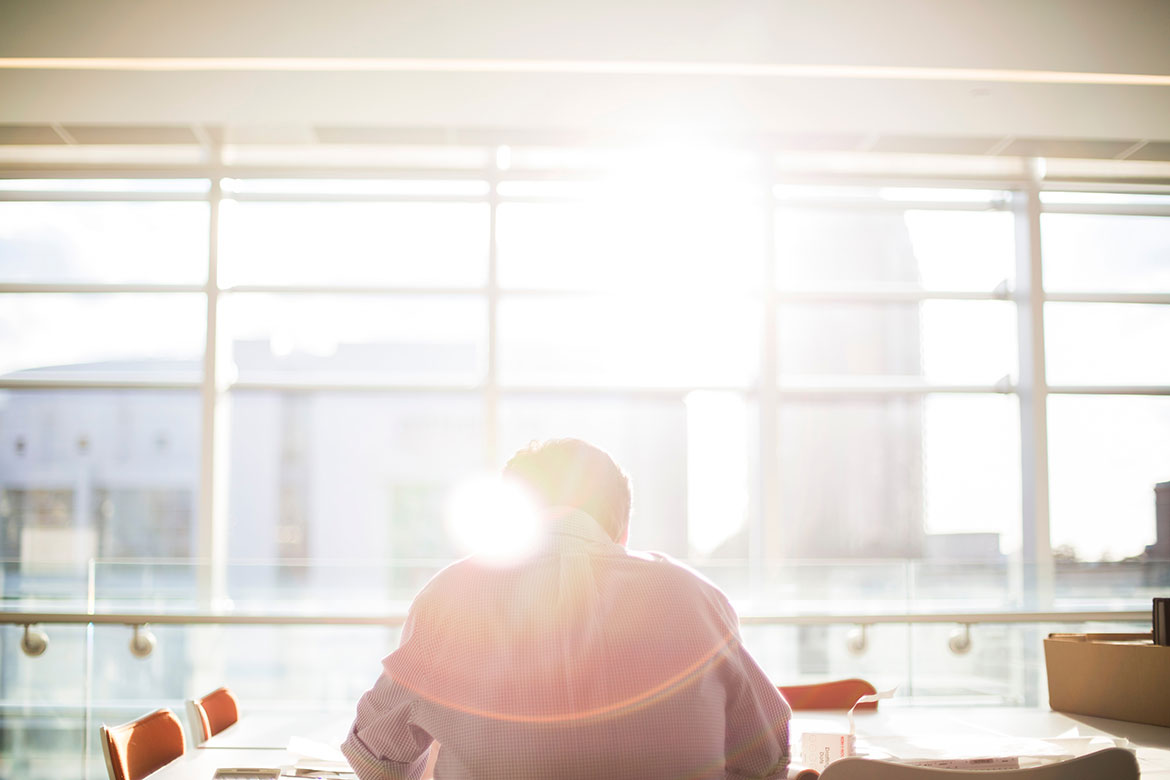 Travel
At this time all foreign travel should be avoided unless absolutely critical. Check government guidance and travel restrictions, and be prepared that these could change at any time.
You can also help reduce the spread around the UK by restricting travel as much as possible. Certain areas (for example London) are further ahead in the coronavirus outbreak, and we can all play a part in slowing down the spread of the disease. And because it's hard to maintain social distance with others on public transport, only use it if essential to do so.
Cleaning
Of course, we keep our workplaces clean and tidy at all times. Don't we? But during a pandemic, it's even more important to keep surfaces clean. Because the coronavirus (and other bugs, viruses and bacteria) can live on surfaces. We don't have all the facts yet on coronavirus, but we do know that it can survive on many types of surface for hours or even days.
It is not certain how long the virus that causes COVID-19 survives on surfaces, but it seems to behave like other coronaviruses. Studies suggest that coronaviruses (including preliminary information on the COVID-19 virus) may persist on surfaces for a few hours or up to several days.
Regularly clean surfaces that are touched like door handles and handrails. Use either soap and hot water to rinse the germs away, or a disinfectant to kill them. Always dry surfaces thoroughly after cleaning. Dampness helps any remaining germs to survive and, if there's enough water, multiply. Check out the NHS website for further guidance.
Personal Hygiene
Coughs and sneezes spread diseases. Remember, anyone with a cough shouldn't be at work and should be self-isolating. When you cough, cover your mouth and nose with a tissue or your sleeve (not your hands). Put the tissue in a bin immediately after and wash your hands.
And coughing or not, everyone should be washing their hands much more often than usual. You might think washing your hands isn't enough, but a study by the BBC showed that if everyone washed their hands properly, and more often, during a pandemic outbreak, the disease would spread much slower, and infect fewer people. This means the NHS would cope better, and fewer people will die.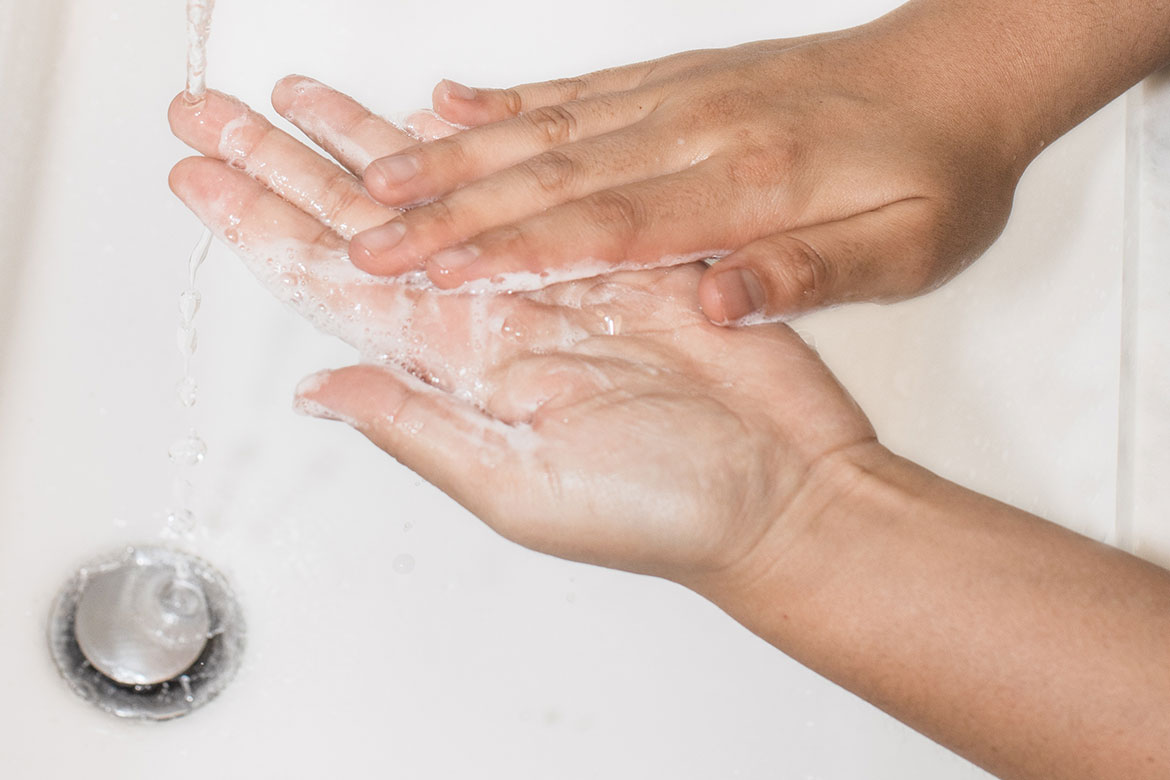 Slowing down the outbreaks and reducing their impact are both extremely valuable. An extra month before many towns are reached could be enough time to allow further control measures to be rolled out, and certainly it would mean national resources (such as hospital beds) being less stretched by all places having epidemic peaks near-simultaneously, and generally be a much more manageable scenario.
So this is good guidance for you and your team: Wash. Your. Hands.
After you go outside, handle packaging, receive any deliveries, before you each or touch your face. Wash your hands and wash them well, for at least 20 seconds. Check out the video on how to wash your hands properly. Sing happy birthday twice, or count to 20-30 seconds, whatever works for you. You can use hand sanitiser gel if soap and water are not available, but a proper wash with soap and water is the best way to keep your hands clean.
And speaking about touching your face. Avoid it. You probably touch your face more than you realise, we all do. But the virus can attach to your hands from the things you touch, and spread to your face when you touch it. The main routes of entry being your nose, mouth and eyes.
---
There is no doubt that this is a tough time for the majority of businesses in the UK. The coronavirus is a global event and the biggest health crisis to affect the country in modern times. The actions you take today can help to protect your team and your customers.
Download the free coronavirus toolbox talk to raise awareness of the control measures you can use to help slow the spread of the virus. And our free coronavirus risk assessment template can be used to help you control the risks if your business is required to stay open.
*As this is a fast-developing situation, please follow the NHS and government information sources while the situation is evolving for the latest guidance.